Poker Basics
The object of the game of Poker is to build the best hand. The hand values are predetermined and are ordered from high card (the weakest hand) to the Royal Flush (the strongest hand). The easiest way to learn these hand values is by looking at a chart,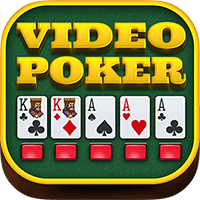 which is extremely easy to find with a standard web search. How you build that strong hand depends on the version of poker that you're playing. In Texas Hold'em, you decide if your two-card hand is strong enough to move forward in play, and five community cards are then dealt as the game progresses. However, Video Poker is closer to Draw Poker, where you are given five cards, choose which ones you want replaced from the same deck, and then you receive additional cards to make your final five-card hand.
How to Play
Once your coin values are set (and you're playing all five coins so that you qualify for the maximum fixed jackpot), you press the deal button and are given five cards. If you're brand new to poker, make sure you have that chart handy, and make sure you play in a casino that lets you try out the game for free with demo credits in practice mode. Once you've practiced, you'll have a much better chance of walking away with profits. Luckily, Video Poker has one of the lowest house edges in the casino, so if played with the best strategy, you have a good chance of breaking even or better.
Once you have your five cards, you select the ones you want to keep and you don't select the ones you want to replace from the same deck. This is an extremely important differentiation, as you don't want to replace good cards. Once you've selected the cards you want to hold onto (which can be as many as all five or as few as zero), you press the draw button. The cards you didn't select are replaced, and your final hand is made. If it corresponds to a hand in the payout table, you win that payout! It's that easy!
Double or Nothing
If you do receive a payout, you will be asked to go double or nothing. We highly recommend you don't take that risk if you get a high payout, as the return to play is hard to verify, and taking that option is just not good strategy. However, it would be hard to fault someone for it if they just won their money back. The dealer flips a card, and the player chooses one of four facedown cards. If the player's card is higher than the dealer's, they win the double or nothing payout.